Comedian and Host Jaime Monroy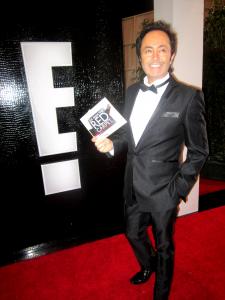 Comedian and Host Jaime Monroy at E! event
Comedian /Host Jaime Monroy with King of Pop, Michael Jackson
I'm very excited to have veteran red carpet host Jaime Monroy with his Hollywood history, charm, and personality hosting the awards ceremonies."
— AOF Megafest Queen Anabelle Munro
HOLLYWOOD, CA, UNITED STATES, July 22, 2021 /EINPresswire.com/ — Hollywood, CA, July 21, 2021- Hollywood comedian and host Jaime Monroy (JM website) will co-host The AOF (Action on Film) MEGAFEST XVII awards ceremony evenings with actress Susan Stafford. Monroy will also host the red carpet for the Las Vegas premiere of Sarogeto, an official selection of the festival, that is scheduled from July 26 – August 1, 2021.
The veteran Hollywood red carpet host Jaime Monroy has been chatting it up with a wide range of celebrities in this new era of reality stars, social media sensations, today's TV stars to icons Barbara Eden, MTV Movie Awards, The Golden Globes, The Emmy's, musical artists on the rise to Grammy music legends Smokey Robinson, to Academy Award winners past and present, soap opera queen Susan Lucci, reality stars, rock stars, sports stars Terrell Owens, to NFL legend Rosey Grier, fashionistas, designer icons Donna Karan and even ABC's bachelorettes with or without a rose, they've all been face to face with a legendary host and comedian in the Hollywood community, Jaime Monroy!
The AOF MEGAFEST XVII film festival started in Southern California and moved to it permanent home in Vegas in 2017. Megafest is comprised of 15 festivals, competitions, screening events, multiple parties, seminars, mixers, international awards, and more all taking place during the weeklong event. AOF has featured such A-listers as Talia Shire, Mark Ruffalo, Ron Perlman, Eric Bana, Deborah Kara Unger, Bill Duke, Glynn Turman, Michael Madsen, and many others.
AOF Megafest Queen herself Anabelle Munro comments, "I'm very excited to have veteran red carpet host Jaime Monroy with his Hollywood history, charm, and personality hosting the awards ceremonies."
Monroy states, "I'm excited to be hosting the awards ceremonies as it acknowledges all the hard work that goes into making films and inspires other filmmakers. I'm also very happy to be hosting the red carpet for the film premiere of Sarogeto, one of the most captivating films I have seen in recent years. The first-time filmmaker Nico Santucci is a true artist who demonstrates a profound depth in his work."
Monroy adds "I'm thrilled to be returning to the entertainment capital of the world, Las Vegas where I've worked for many of my early years!" Jaime Monroy has come a long since he first performed in Las Vegas when he was an aspiring 20-year-old young stand-up comedian, brought into emcee "Legends in Concert" at the Imperial Palace in the early 1980s to his surprise as, Donny Osmond! Since that first Vegas break in the 80s, he has worked with many Vegas comedy legends, including Redd Foxx, Charlie Callas, and Phyliss Diller.
"Sarogeto" has been nominated for several film festival awards, including Del & Theresa Weston's "Hollywood Dreams Living Legend Award" for Eric Roberts, Anabelle Munro's "The Most Important Film Awards" #TMIF Leading Man Winsor Harmon III, and Lureen Wu's "Las Vegas Asian Film Awards" #LVAFA Best Actress for Ikumi Yoshimatsu and Ruby Park for Best Breakthrough Performance. The film stars Ikumi Yoshimatsu, Winsor Harmon III, Ruby Park, Koji Niiya, Eric Roberts, Aki Aleong, Angelica Bridges, Tyler Ghyzel, Pol Atteu and Derek Warburton. Original scores and music created by Martin Tillman, Jakob Balogh and Keaton Simons.
EVENT INFO:
The AOF MEGAFEST XVII awards ceremony will be held on July 30 – 31at at the GALAXY THEATERS BOULEVARD MALL · 3680 S. Maryland Pkwy in Las Vegas.
"Sarogeto" will headline the #Megafest2021 at 9:30 p.m. PST in the Galaxy Sony HD Digital Cinema Theater in Las Vegas on July 28, 2021. Red carpet to begin at 8:45 p.m.. Many VIPs and celebrities have confirmed for the Red Carpet. https://patch.com/nevada/lasvegas/calendar/event/20210728/1097438/director-nicosantuccis-award-winning-film-sarogeto-headlines-megafest2021-in-las-vegas
TICKET LINK:
https://www.actiononfilmfest.com/product-page/sarogeto-wed-7-28-21-9-30pm-block
Contact for Interviews / Media:
Candi Cazau
CandiCazau@cox.net
702.521.7290
Contact for VIP Guest List / Red Carpet:
Jackie Lewis
JackieLewisProductions@gmail.com
818.720.4221
Contact for Digital / Photos / Social Media for Jaime Monroy:
https://www.imdb.com/name/nm2247429/
Website: https://www.jaimemonroystudios.com/
Email: hdjm@jaimemonroystudios.com
FB: https://www.facebook.com/hollywood.desperado.jaime.monroy
Twitter: https://twitter.com/theejaimemonroy
IG: https://www.instagram.com/theejaimemonroy/
Contact for Digital / Photos / Social Media for Nico Santucci and Sarogeto:
Melanie Noir
SarogetoTheMovie@gmail.com
657.217.1067
www.Sarogeto.com
https://filmfreeway.com/NicoSantucci
Twitter: @NicoSantucci @SarogetoTheFilm @AwardsTMIF
Instagram: @NicoSantucci
About Jaime Monroy:
Jaime has come a long way since that first Vegas break back in the 1980's. Born in Lincoln Heights, East Los Angeles, Jaime's four decade career includes many Las Vegas gigs, warming up audiences with his hilarious comedy from Casino lounges to musical comedy review shows along the LV strip from Aladdin's Bagdad theatre, Caesars Palace, Desert Inn, The Riviera Hotel, The Sands Hotel, The Tropicana, to DTLV's The Golden Nugget and beyond.
Celebrating 43 years in show biz Jaime Monroy is one of America's established comedians with over 5,000 appearances to his credit in comedy clubs, colleges, Las Vegas casinos, Atlantic City showrooms and concerts across the United States. Jaime Monroy's star quality, charismatic presence, outrageous sense of humor & quick ad-libs has audiences laughing & always wanting more! Jaime's spontaneous style weaves together stories, hilarious interaction with the audience and observations of American life for big laughs, making him a favorite opening act to the stars all audiences!
Comedian, TV Host, and Producer Jaime Monroy has been seen on E! Entertainment, a featured guest on The 80's Golden Age of Comedy and leads a fascinating life. He is described by audiences and his fellow comedians as a rock star comic, like a bolt of energy and rocks audiences into laughter that comedians rarely bring to the stage every night! Jaime's television career began on a top 40 music TV show, "Solid Gold", becoming the youngest TV warm up comedian in television history! "The Warm Up Kid" revved up thousands of studio audience tapings for more than 25 of America's favorite television shows, talk shows, sitcoms from "Solid Gold to Golden Girls, Cheers", including Lucille Ball's last TV show, "Life with Lucy".
Monroy is the only comedian to ever open for the King of Pop, Michael Jackson! Jaime will be launching his own podcast bringing his Hollywood experiences, all American style& Latin charm to to host his streaming podcast show, "You're on Next with Jaime Monroy".
Jackie Lewis
Jackie Lewis Media, PR, & Events
+1 818-720-4221
email us here
Visit us on social media:
Facebook
Twitter
LinkedIn

Source: EIN Presswire