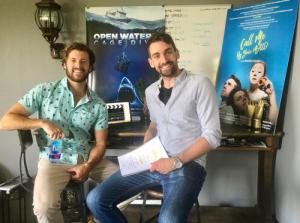 Well-known and award-winning actors Joel Hogan and Richard Rennie have joined a new franchise from Lionsgate.
The film is a continuation of the Open Watere franchise and marks Hogan's continuing relationship with the studio, and boldens Rennie's outstanding career.
LOS ANGELES, CA, UNITED STATES, May 10, 2018 /EINPresswire.com/ — Award-winning actors Joel Hogan and Richard Rennie have signed on to star in Lionsgate feature "Shark Trackers", an upcoming addition to the hugely successful "Open Water" franchise that will see a team of scientists set out on a shark tagging expedition off the coast of Western Australia, only to discover that sharks aren't the only threat in the unpredictable waters.
Directed by festival darling Gerald Rascionato, and produced by Charles Barsamian at Exit Strategy, along with Arclight Films, "Shark Trackers" will shoot later in the year. Hogan also developed the story, along with Josh Pothoff (helmer of successful documentary "Naked Sound"). Odin's Eye Entertainment are handling international sales.
Rennie will play the romantic lead role of Chris, the boat's first mate captain who sparks up a romance with lead marine biologist Sam. Inside sources tipped that A-list actresses Emma Roberts and Zoe Kravitz are in discussions to appear as Sam. If Emma Roberts is confirmed to play the love interest of Sam, it will mark yet another occasion where Richard works alongside the famous Roberts family.
Most recently, Richard worked alongside Academy Award Nominee, Eric Roberts ("The Dark Knight," "The Expendables," "Grey's Anatomy") in Hey Wonderful/RSA's (Ridley Scott) TV Pilot, "@asst."
Richard added "I am extremely delighted to joining the cast of Shark Trackers and grateful to have the opportunity to work with such a talented team of people. We are all confident that this film will be the new legendary era of Shark Films and i am thrilled to be involved."
The role marks another strong addition to Rennie's CV, who is frequently hailed as the Scottish 'Derek Hough' – a triple threat across acting, modeling and dancing who has been the face of Yvés Saint Laurent and shared screen-time with Grammy-Award winning singer Duffy, and performed for Justin Bieber, Beyoncé and the Queen Elizabeth at the Moulin Rouge.
An industry decision maker remarked that Rennie "the Scottish answer to the triple threat for male entertainers – sure to add value to the film's distribution."
Hogan will play Chris, the film's lead antagonist who represents a threat to the team's expedition. The Australian native, repped by Ignite Elite in Australia and Green and Green Talent in the US is coming off the momentum of his recent roles on the TV series "Home and Away" (Heath Ledger, Chris Hemsworth, Naomi Watts) and the award-winning films "Actor For Hire" & "Paradise Lodge."
A studio insider noted that "Joel is primed to help carry his newest film endeavour to even greater success, as his huge profile – especially in the Australian and Asian markets – will help secure the film's sales rights."
Lionsgate is said to have offered him the role due to their successful partnership with the multi-talented thespian, which was recently marked with the box-office success of "Open Water 3."
Joel added, "I'm incredibly excited to be working on another film with Lionsgate and Just One More productions, as both companies have only ever treated me wonderfully. I feel our collaboration will continue to be a mutual success as they offer me challenging, highly satisfying, transformative roles and I help spearhead their films."
Alexander Jack
2247272172
email us here
.

Source: EIN Presswire