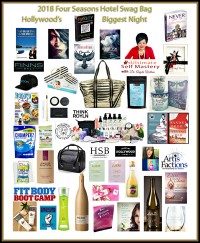 2018 Hollywood Swag Bag Honoring Oscar Weekend at The Four Seasons Hotel
Hollywood Swag Bag creates gifts for celebrity rooms in honor of Oscar Weekend.
HOLLYWOOD, CA, UNITED STATES, March 2, 2018 /EINPresswire.com/ — Hollywood Swag Bag (www.hollywoodswagbag.com) will be providing gifts for the nominees and talent staying at The Four Seasons Hotel at Beverly Hills in honor of Oscar Weekend. The talent will receive their luxuries in the comfort of their own hotel rooms.
The swag bag is valued at $15,000.00 this year and includes an assortment of cosmetics, original art, gift vouchers and fashion items from Australia, Brazil as well as local U.S. brands.
Past recipients of Hollywood Swag Bag's Four Seasons Gift Bags include Oprah Winfrey, Michelle Williams, Jessica Lange, Meryl Streep, Ricky Gervais, Morgan Freeman, Jimmy Kimmel and more.
Gifting participants for the 2018 include: Finn's Beach Club in Bali Gift Vouchers, Hungry Girl Magazine by Lisa Lillien, Perla Natural Teeth Whitening, The Hachette Book Group's National Best Seller PACHINKO by Min Jin Lee and Seeing Red by Sandra Brown. Patrizia Terranova Art, Samba Sol Flip Flops from Brazil, Laurencia Hoffmann's books "No Love Lost", "A Wish for Remembrance", and "Life and Death." LaChance Vineyards Wine, an assortment of Seasnax, Carolyn Cranwell's book Navigating Alzheimer's along with a gift voucher for her services, JeanClare's book Never Give Up, Kerrie Denton's book My Secret is Your Secret, Dr. Angela Wilson The Ultimate Self Mastery gift vouchers for her services, Have You Packed Yet? Deluxe Grab n' Go Beauty Case, Lisa Pollock's Art from the Heart Journal and Mug, Nutra Organics Mermaid Latte; Katrina Wilson's book The Rugby Mindset. Your Superfoods; Forever Beautiful Supplements. Sangaria USA Chu-hi Alcoholic Beverage, Luiere Bio-Cellulouse Masks from Australia, Young Scent Health and Wellness Drinks, Burbank Fit Body Boot Camp Vouchers, Artisfactions Visual Communications by Tracy Saunders, Abeauty Teen (boys and girls) body wash and moisturizer. Be Tini Spirits in a variety of flavors, Mezcal Bozal a craft, artisan, handmade Mezcal, The Organic Lip Balm Company gifting lip balm and the book One Million Kisses by Janine Hall. Leila Khan's book 101+ Ways to Overcome Life's Biggest Obstacles, Marie Chronopoulos' book Dare to Choose a Journey of Self Healing, She's It- Empowered Women Win Wine Glasses. All of these amazing gifts will be presented in the Think Royln Gold Wingman Bag. Swag Bag procured by www.hollywoodswagbag.com and www.celebrityhollywoodgifting.com.au
Follow Hollywood Swag Bag Twitter (@swaggivesback), and Instagram (@hollywoodswagbag).
Direct press inquiries to lisagalbianchi@gmail[dot]com.
ABOUT
Hollywood Swag Bag www.hollywoodswagbag.com in conjunction with www.hollywoodbaskets.com is a luxury gifting company that represents various brands from US and worldwide to provide gifts to celebrities through luxury hotels in Los Angeles and New York.
Hollywood Swag Bag is in no way associated with The Academy of Motion Pictures Arts & Sciences, The Hollywood Foreign Press Association, or The Academy of Television Arts & Sciences.
Lisa Gal
Hollywood Swag Bag
818-445-9243
email us here

Source: EIN Presswire