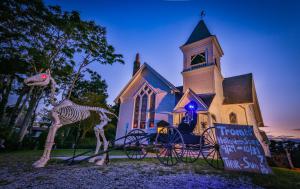 St.Babs at Halloween on the Jersey Cape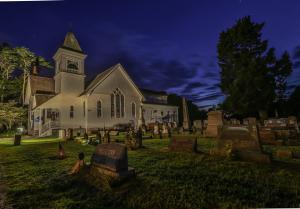 The St.Babs Halloween Cemetery Scare!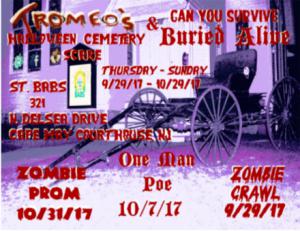 Dates/Times St. Babs Halloween
FEATURING A ZOMBIE CRAWL (SEPT 29TH), THE ZOMBIE PROM (OCT 31ST) & 'ONE MAN POE' (WILL KEENAN'S READINGS OF THE POETRY OF EDGAR ALLAN POE: OCT 7TH)
St. Babs resides on one of NJ's most historic & iconic cemeteries, and during our Halloween attraction whole families can experience local legends come back to life, plus a few really great scares…"
— Will Keenan, Executive Director & Chairman, St. Babs
CAPE MAY COURTHOUSE, NEW JERSEY, UNITED STATES, September 10, 2017 /EINPresswire.com/ — September 7th, 2017 Cape May Courthouse, NJ – Former Hollywood actor, producer and digital entertainment executive Will Keenan is premiering "Tromeo's Halloween Cemetery Scare!" at his St. Babs church in Cape May County September 29th through October 31st. The St.Babs Halloween attraction is advertised as family-friendly and inspired by the many famed personages housed in the historic church's cemetery as well as the surrounding area's haunted ghost lore. Highlights of the seasonal production will be a haunted cemetery tour, a "Buried Alive Experience" where attendees can feel what it's like to be buried in a fresh grave complete with funeral procession, a "Zombie Prom" on Halloween night, Will Keenan's special readings of the poems of Edgar Allan Poe ("One Man Poe" Oct 7th), a "Trunk Or Treat" for parents & kids on Oct 18th and the famed Zombie Crawl players kicking off the production Sept 29th. Other highlights include appearances by the Jersey Devil, a downed alien spaceship, and famed Cape May County luminaries Andrew J. Tomlin, Vinnie Coachman, among others. As reported recently in stories in The Philadelphia Inquirer, The Press Of Atlantic City and Cape May Magazine (links below), Keenan returned to south Jersey last summer to take care of his sick mother, Barbara, after 14 years in LA and 13 years in NYC then decided to relocate to the Jersey Cape, saving one of Cape May County's most historic churches and cemeteries (Goshen United Methodist) and renaming it after his deceased career-RN mother in efforts to promote recovery, spirituality and the arts.
Says Keenan, "St.Babs resides on one of New Jersey's most historic and iconic cemeteries, and during our Halloween attraction whole families can experience local legends come back to life plus a few really great scares. All of Cape May County is known to be haunted and we're going to prove it this season with 'Tromeo's Halloween Cemetery Scare!' at St.Babs."
Co-Executive Producers Rob & Jenn Hasson, say, "Do you wish to see sights unseen? Then join us here at St.Babs for Halloween… Specters, ghouls and grinning ghosts are clamoring to be your host, come to us and hear our stories, as we regale our past glories with a little bit of history, wrapped in revenant mystery. So, when it's dark and chills fill the air, COME TO TROMEO'S HAUNTED HALLOWEEN CEMETERY SCARE."
St.Babs Presents… Tromeo's Halloween Cemetery Scare!
Produced by Will Keenan, Rob Hasson & Jenn Hasson
September 29th 4pm – Zombie Crawl
September 29th-Oct 29th 7-10pm- Haunted Cemetery Tour+Buried Alive Experience ($15)
October 7th 8pm – Will Keenan's "One Man Poe" (poetry readings of Edgar Allan Poe) ($10)
October 18th 5pm – Trunk Or Treat
October 31st 8pm – Zombie Prom (donation)
St.Babs is located at 321 North Delsea Drive, Cape May Courthouse NJ 08210
http://www.Facebook.com/StBabs
Inquiries/Contact:
Will Keenan
310-430-4658
Keenan.Assistant@gmail.com
PHILADELPHIA INQUIRER:
"From Hollywood To Church Of St.Babs: Will Keenan Honors Late Mom His Way"
http://www.philly.com/philly/columnists/kevin_riordan/20170101_Home_from_Hollywood__actor_honors_mom_with__Church_of_Babs_.html
PRESS OF ATLANTIC CITY:
"The Church of St. Babs, named for Will Keenan's mother who died recently, will house various projects"
http://www.pressofatlanticcity.com/life/for-barbara-a-church-for-music-healing-and-recovery-in/article_a675ab7f-ab5b-50bc-9db3-e1f7a0738e20.html
CAPE MAY MAGAZINE
Will Keenan is "On A Mission"
http://www.capemaymag.com/feature/on-a-mission/
Will Keenan
St. Babs
3104304658
email us here

Source: EIN Presswire